All you need to know
Cosmic Night Serum
Key Ingredients Cosmic Night
Kiwi Seed Oil
Known for its antibacterial and anti-inflammatory qualities, this ingredient is especially beneficial for problem skin. It is also a great source of antioxidants, including vitamin C, which help defend the skin against the visible effects of pollutants.
Black Cumin Seed Oil
Antioxidant and anti-inflammatory, this oil helps fight acne, clogged pores and inflammation, while diminishing the appearance of fine lines, wrinkles and blemishes caused by aging, hormonal imbalances or sun exposure.
Activated Charcoal
A detoxifying and purifying super ingredient, it helps remove impurities and deep cleanse pores, decrease the concentration of blackheads, and soothe acne-prone skin.
Cosmic Night Serum
Benefits
- Removes impurities and deep cleanses pores
- Detoxifies and purifies the skin
- Contributes to cleaner, more balanced skin
- Removes excess oil
- Fights acne and soothes inflammation naturally
- Anti-inflammatory and antioxidant
Cosmic Night Serum
How to use
Use this serum as part of your evening routine - before bedtime, apply 1 to 2 pipettefuls under clean skin, and massage gently. Don't worry about the color, as you won't get dyed skin (or pillow)! In the morning, cleanse your skin and continue with your usual routine. Use daily, or whenever you feel your skin is stressed.
Cosmic Night Serum
Super tip MPL'beauty
Opinião dos consumidores
Escreva uma Avaliação
Faça uma pergunta
17/05/2022
Anonymous

Portugal
Eu recomendo este produto
Incrível!
No dia em que iniciei a minha rotina de noite com este sérum, tinha um "quase ponto *****" infectado na cara. No dia seguinte, estava diferente. Ao terceiro dia, tinha desaparecido. Incrível, recomendo totalmente.
03/05/2022
Lisandra P.

Portugal
Para peles oleosas é tão bom. Cheirinho bom e não fica oleoso colocando a quantidade certa.
À noite é incrível
29/04/2022
Anonymous

Portugal
Eu recomendo este produto
Noite tranquila.
Acalmou a pele do meu rosto.
29/04/2022
Juliana R.

Portugal
Realmente é ótimo
Comprei este sérum para aliviar o meu problema de acne e tem ajudado muito, uso há poucos dias e já noto a minha pele mais aliviada. Uso este à noite como indicado e complemento de manhã com o sérum Repara. Tenho gostado imenso de ambos. Para as pessoas mais duvidosas , relativamente à cor verde não mancha absolutamente nada. É ótimo!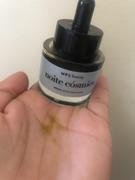 26/04/2022
Ana R.

Portugal
Eu recomendo este produto
Muito bom!
Acalma a pele e de manhã fica super macia. Para além do cheirinho que é óptimo! Recomendo! É 5⭐!!