Healthy Cuisine
More than 150 recipes for more beauty, happiness and well-being - balance is the secret ingredient. Mafalda will inspire you to use more fruits and vegetables in your daily diet, with original recipes full of color.
This book is a reflection of a long search for a longer-lasting life formula, with more energy and in total harmony with the true beeza that we have and want to let it show.

Leave your name in the message box when you buy the book, for the Mafalda write you a personalized message.
The right ingredients
We work to create effective products, completely free of chemicals, and the quality of the ingredients is essential. We choose only highly nutritious plants and oils, cold pressed to preserve all the benefits that take care of your skin. 
At MPL'Beauty:

- We do not test products on animals;
- Most of the ingredients are of vegetable origin;
- We only use 100% natural ingredients;
- Without parabens, petrochemicals, silicones or synthetic fragrances;
- All ingredients are organic;
100% natural ingredients
At MPL'Beauty, we believe that we can only nourish our skin with 100% natural ingredients. Nature gives us everything we need - we just need to know how to use the right plants, vitamins and minerals to cleanse, hydrate and regenerate the skin. We defend a holistic beauty: from the inside out, from the outside in. Achieving the natural glow that you so desire is much simpler than it looks.
Opinião dos consumidores
Escreva uma Avaliação
Faça uma pergunta
06/04/2021
Ana P.

Portugal
Ana Paula
Complementou informação de que já dispunha e deu-me novas receitas saudáveis e funcionais. Tive pena de não ter percebido bem, quando fiz a compra, e - por isso - não ter recebido uma mensagem personalizada da Mafalda.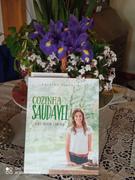 01/12/2020
Daniela R.

Portugal
Receitas deliciosas
Adoro todas as receitas que já experimentei, e tenho a certeza de que vou adorar todas as outras! Algumas receitas são mais elaboradas, mas valem a pena o esforço!