Customer Reviews
Write a review
Ask a question
09/08/2021
Tania N.

United Kingdom
Unmissable
More than a workshop where recipes are given, what I admire in Mafalda (the years) is the gift that it has in what it touches to communicate what he believes and by which he is in love. In this workshop the recipes were an extra, being that, the most important thing for me was even the approach presented to the theme of healthy eating, and, get out of here with the certainty that the only one should not say is extremisms. I loved it ✨✨✨✨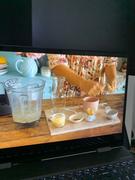 28/02/2021
Carla C.

Portugal
This WS gives good tips and is a source of inspiration for anyone who wants to have a healthier life.
Useful and inspiring
07/01/2021
Cláudia O.

Portugal
Really enjoyed!
I think the workshop was very well structured, talks about several principles that are the basis of a healthy eating and at the same time transmits scientific knowledge, such as what some food / nutrients provoke in our body simply and accessible to a layman in the matter. It is undoubtedly a good gateway to a healthier diet.