Workshop Principles of Healthy Eating
Healthy eating is the key to true beauty. Want to learn how you can eat well every day? Any tricks, tips, recipes and ideas? Don't have much time available? This workshop is for you - theory and practical recipes, without leaving your home!
In this 2-hour online workshop, you will learn the fundamentals of healthy eating and learn the right ingredients and medicinal plants for daily balance, both in food and in lifestyle.
We all know that the foundation for feeling good, beautiful and healthy is rooted in what we eat. Learning how to be in tune with our body in order to choose the most nutritious food is the key to beauty, health and longevity.
I will show you how to recognize which foods and plants do you best - specifically you, as we are all different.
INCLUDES:
Illustrated book with all theoretical content and recipes

* All sales of the workshops are final. We do not make returns.
* Workshop in Portuguese.
* Access to the workshop and book via email.
The right ingredients
We work to create effective products, completely free of chemicals, and the quality of the ingredients is essential. We choose only highly nutritious plants and oils, cold pressed to preserve all the benefits that take care of your skin. 
At MPL'Beauty:

- We do not test products on animals;
- Most of the ingredients are of vegetable origin;
- We only use 100% natural ingredients;
- Without parabens, petrochemicals, silicones or synthetic fragrances;
- All ingredients are organic;
100% natural ingredients
At MPL'Beauty, we believe that we can only nourish our skin with 100% natural ingredients. Nature gives us everything we need - we just need to know how to use the right plants, vitamins and minerals to cleanse, hydrate and regenerate the skin. We defend a holistic beauty: from the inside out, from the outside in. Achieving the natural glow that you so desire is much simpler than it looks.
Opinião dos consumidores
Escreva uma Avaliação
Faça uma pergunta
09/08/2021
Tania N.

United Kingdom
Imperdível
Mais do que um workshop onde são dadas receitas, aquilo que mais admiro na Mafalda (aos anos) é o dom que a mesma tem no que toca a comunicar aquilo em que acredita e pelo qual é apaixonada. Neste workshop as receitas foram um extra, sendo que, o mais importante para mim foi mesmo a abordagem apresentada ao tema da Alimentação Saudável, e, sair daqui com a certeza que o único não que devo dizer é a extremismos. Adorei ✨✨✨✨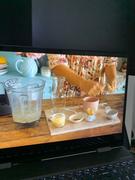 28/02/2021
Carla C.

Portugal
Este WS dá boas dicas e é uma fonte de inspiração para quem quer ter uma vida mais saudável.
Útil e inspirador
07/01/2021
Cláudia O.

Portugal
Gostei muito!
Acho que o workshop foi muito bem estruturado, fala de vários principios que são a base de uma alimentação saudável e ao mesmo tempo transmite conhecimentos científicos, como o que é que alguns alimentos/nutrientes provocam no nosso organismo de forma simples e acessível a um leigo na matéria. É, sem dúvida, uma boa porta de entrada para uma alimentação mais saudável.