- activates the lymphatic drainage;
- helps eliminate fluid retention and toxins;
- softens the skin;
- reduces the appearance of cellulite.
Apply Firm Oil generously and with your Body Gua Sha, make circular movements, insisting on the belly, thighs, hips, and buttocks areas.
CAMELLIA JAPONICA SEED OIL*, ARGANIA SPINOSA KERNEL OIL*, SCLEROCARYA BIRREA SEED OIL*, OENOTHERA BIENNIS OIL*, RICINUS COMMUNIS SEED OIL*, CITRUS PARADISI PEEL OIL*, TANACETUM ANNUUM FLOWER OIL*, CITRUS LIMON PEEL OIL*, JASMINUM GRANDIFLORUM FLOWER EXTRACT*, CANANGA ODORATA FLOWER EXTRACT*, TOCOPHEROL*, HELIANTHUS ANNUUS SEED OIL*, LIMONENE**, BENZYL BENZOATE**, LINALOOL**, CITRAL**, EUGENOL**, GERANIOL**, BENZYL ALCOHOL**, FARNESOL**, BENZYL SALICYLATE**
*Organic
** Naturally occurring in essential oils
We work to create effective products, totally free of chemicals and for this the quality of the ingredients is fundamental.
• We do not test products on animals;
* Ingredients of vegetable origin;
• 100% natural ingredients;
* Paraben-free;
* No petrochemicals;
* No silicones or synthetic fragrances;
• All ingredients are organic.
Opinião dos consumidores
Escreva uma Avaliação
Faça uma pergunta
12/10/2023
Cristina O.

Portugal
Pele mais firme
Gostei muito deste produto e estou a encomendar novamente. Notei diferença na minha pele, mais firme. Tem um cheiro bastante agradável.
06/10/2023
Sónia C.

Portugal
Eu recomendo este produto
Fragilidade da Pedra
Boa Tarde, A minha experiência com este produto não foi de todo positiva! O Kit firme é composto pelo oleo inserido recipiente de vidro e um gua sha. Esta pedra é muito "fina" o que lhe confere fragilidade. Infelizmente guardei a pedra junto com o Frasco assim que recebi a encomenda. Quando vou usar pela 1ªvez, verifico que a pedra estava partida a meio, deduzo que deva ter encostado no fraso do óleo e partiu dentro da gaveta. Nao consegui sequer testar o beneficio da pedra com o produto. Reportei de imediado à marca para perceber se podia existir algum caso idêntico e se havria sensibilidade para substituir a pedra, dado que estava dentro de dias após a entrega e pelo próprio valor do KIT, mas infelizmente não o fizeram... Desiludiu-me o serviço pós-compra, ainda para mais, porque comprava varios produtos e era fiel à marca. Cumprimentos, Sónia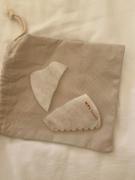 11/09/2023
Ana R.

Portugal
Eu recomendo este produto
11/09/2023
Maria J.

Portugal
kit firme
Antes de ir à praia comecei a usar e depois de 2 semanas vi resultados. Recomendo.
04/08/2023
Elisabete V.

Portugal
Eu recomendo este produto
Aprovado
Ainda estou a usar à pouco tempo mas gosto de fazer a massagem utilizando o kit, aprovado