Customer Reviews
Write a review
Ask a question
22/11/2021
Sónia P.

Portugal
I recommend this product
Shines
Smooth and luminous skin. Good excholiant. I do not really like the package because the grains begin to accumulate in the clasp and then it starts to be difficult to keep the product sealed. I think a package type the cans of babies milk powder would work better. It would even be easier to remove the product with a spatula or spoon.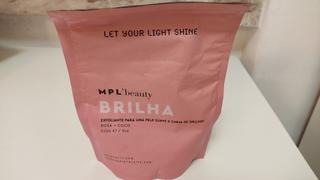 08/11/2021
Sarita

Portugal
I recommend this product
Very good!
I got a sample with my last order and I was a fan! It is super nice to use and leaves skin soft and moisturized and, the best, is the aroma that transports me to my childhood and Indian culture. To when a cream or body lotion with the same aroma? :)
25/08/2021
Manuela G.

Portugal
Very nice!
I liked it immensely, starting with the aroma. The result? A smooth and effectively luminous skin.
20/08/2021
Artur G.

Portugal
Optimal texture
The texture is wonderful, A by the super velvety at the end of the application