Add 1 tablespoon to 250 ml of hot water. Cover and let stand for 5 minutes. Drink.
Beauty Infusion Ingredients:
Rosehip Seeds (Rosa canina), Chamomile (Anthemis Nobilis), Lime Lily (Lippia citriodora), Horsetail (Equisetum arvense), Lavender (Lavandula Angustifolia), Nettles (Urtica dioica), Rose Petals (Rosa canina), Dandelion (Taraxacum officinale), Schisandra (Schisandra chinensis)*.

Beauty Chocolates Ingredients:
Cocoa Butter (Theobroma Cacao), Cocoa Liquor, Coconut Sugar, Pure Beauty Blend [Amla (Phyllanthus emblica), Schisandra (Schisandra chinensis), He Shou Wu (Fallopia multiflora), Lucuma (Pouteria lucuma), Rosa Mosqueta (Rosa canina), Acai (Euterpe oleracea), Maqui (Aristotelia chilensis), Tulsi (Ocimum tenuiflorum), Reishi (Ganoderma lucidum), Ginger (Zingiber officinale)], Rose petals (Rosa canina), Raw Vanilla (Vanilla Planifolia), Cardamom (Elettaria cardamomum)*.

*All ingredients are of organic origin
We work to create effective products, totally free of chemicals and for this the quality of the ingredients is fundamental.
• We do not test products on animals;
* Ingredients of vegetable origin;
• 100% natural ingredients;
* Paraben-free;
* No petrochemicals;
* No silicones or synthetic fragrances;
• All ingredients are organic.
Consumer Reviews
100
Reviewers would recommend this product
Write a review
Ask a Question
21/08/2022
Sofia W.

Portugal
I recommend this product
It is so good, I bought it for myself and then for my sister.
I was hooked.
21/08/2022
Sofia W.

Portugal
I will want more!
So good!
03/05/2022
Lisandra P.

Portugal
Both the chocolates and the tea taste very good. I hope to see favorable results in
Very nice flavor
30/04/2022
Sofia A.

Portugal
Amazing I love the chocolates!
The chocolates are a great substitute for when we want to snack on something from the cupboard without a burden on our conscience. When I purchased I thought it was a smaller package with everything in the same package, and that it had the infusion/tea at the bottom. I was overjoyed when I realized there were 2 packs.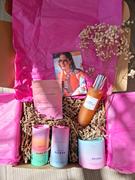 15/12/2021
Maria G.

Portugal