Water Sha Jade
Gua Sha is an ancestral facial modeling tool, incredible to circumvent the skin of the face, jaw and neck. The daily use of Gua Sha improves full absorption of beauty products, promotes blood circulation, combat swelling (especially in the eye zone) and the appearance of wrinkles. Made in Jade,A serenity symbol that raises spirituality, helps eliminate negative thoughts, relieves pains and purifies the energy of the organs.
Benefits:
Improves the appearance and elasticity of the skin

Reduces swelling and wrinkles

Relieves facial muscle tension

The maximum absorption of beauty products
* Natural stone, patterns and color can vary.
* Returns are not allowed or exchanges.
The right ingredients
We work to create effective products, completely free of chemicals, and the quality of the ingredients is essential. We choose only highly nutritious plants and oils, cold pressed to preserve all the benefits that take care of your skin. 
At MPL'Beauty:

- We do not test products on animals;
- Most of the ingredients are of vegetable origin;
- We only use 100% natural ingredients;
- Without parabens, petrochemicals, silicones or synthetic fragrances;
- All ingredients are organic;
100% natural ingredients
At MPL'Beauty, we believe that we can only nourish our skin with 100% natural ingredients. Nature gives us everything we need - we just need to know how to use the right plants, vitamins and minerals to cleanse, hydrate and regenerate the skin. We defend a holistic beauty: from the inside out, from the outside in. Achieving the natural glow that you so desire is much simpler than it looks.
Opinião dos consumidores
Escreva uma Avaliação
Faça uma pergunta
18/07/2021
Eunice

Portugal
Gua Sha Jade
Sensação de relaxamento com aplicação do serum. O rosto parece modelado. Mas confesso que por vezes tenho dificuldade na utilização..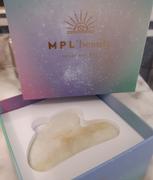 Olá Eunice! Deixo lhe aqui um video da Mafalda com dicas ótimas de como tirar o melhor partido e respetiva utilização do Gua Sha: https://www.instagram.com/tv/CBBow2GFtxO/ Espero que goste! MPL'Beauty
10/06/2021
Maria J.

Portugal
Prático, fresco , ajuda a desinchar e a modelar o rosto
Muito fresco o que sabe incrivelmente bem à pele depois do sérum aplicado.
01/06/2021
Maria J.

Portugal
a aguardar resultados
Super fácil de usar!